Please register for
Molecular Modeling as a Screening Tool to Predict the Separation of Enantiomers On Polysaccharide-based Chiral Stationary Phases
When: Oct 10, 2018 12:00 PM EDT
Registration link: https://attendee.gotowebinar.com/register/6581171220259490305
Speakers: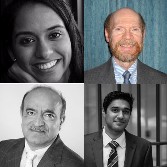 Dr. Priyanka Sharma, co-CEO, Kazmira LLC
Dr. David House, Research Fellow and Director of Chemistry, Orochem
Dr. Sohail Murad, Professor and Chair of Dept. of Chemical and Biological Engineering, Illinois Institute of Technology
Pulak Sharma, co-CEO, Kazmira LLC

In this seminar, we explore the power of computational molecular modeling to develop an efficient (time and cost) and reliable software package for screening the separation of enantiomers on polysaccharide-based chiral stationary phases. More than half of all pharmaceuticals are chiral compounds and the potential market for enantiomer separation is $1.2 billion. Although enantiomers of chiral compounds have the same chemical structure, they can exhibit marked differences in physiological activity; therefore, it is important to remove the undesirable enantiomer.

Chromatographic separation of chiral enantiomers is one of the best available methods to obtain enantio-pure substances, but the optimization of the experimental conditions can be very time-consuming and expensive. The large number of chiral compounds, mobile phase possibilities, and chiral phases can lead to hundreds of possible combinations. Typically, the industry relies on educated guessing and chromatographers try many different combinations. This has hindered progress for developing new drugs, especially orphan drugs. Our software package will allow the initial screening to be done computationally with only a limited number of experimental studies needed to complete a project.

Key Learning Objectives:
• Understand the power of molecular modeling for screening studies of chiral separations
• Optimize operating conditions using the developed tools
• Strategies for developing new column morphologies for separations

About Orochem:
Orochem has manufactured sample preparation, chromatography and protein research products in USA over 22 years. It invests heavily in R&D in-house and owns strong intellectual property in stationary phases for achiral and Chiral Chromatography

After registering, you will receive a confirmation email containing information about joining the webinar.