Speaker:
Peter Pellegrinelli, M.S. Application Specialist Advanced Materials Technology, Inc.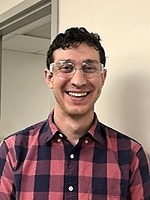 When: Wed, Aug 17, 2022 9:00 AM - 10:00 AM PDT
Chromatographers continue to explore alternate avenues to improve their chromatography separations. These avenues can encompass different parameters including connection tubing, instrumentation configuration, column choice, amongst others. If the method requirements permit freedom for change, adjusting method parameters or exchanging the column are simple changes. It is well known that by switching from larger ID columns to a smaller ID can reduce overall solvent consumption and improve sensitivity. Previously, in order to improve the method sensitivity using a 2.1 mm ID, a specialized micro or nano flow LC system using capillary columns was used. However, this can be an expensive venture to undertake to improve one's chromatography system performance from a routine operational and maintenance standpoint.
In this webinar a new 1.5mm ID column technology will be discussed. Skipping the expense of a specialized system and gain improvements in both sensitivity and reduced solvent consumption with a commercial UHPLC system will also be presented. This new column dimension shows an increase in sensitivity through both UV and MS applications. With greater response and higher ionization efficiencies problematic separations can be overcome. Advantages to the proteomic and peptide mapping applications will be shown along with some small molecule application examples.
• How a new 1.5 mm ID column delivers an increase in sensitivity for UHPLC and LCMS separations
• Ability to implement and achieve green initiatives with new column technology
• Getting more performance from your UHPLC system
• Chromatographers developing methods for large and small molecule separations
• UHPLC users interested in increasing sensitivity
• Researchers looking to reduce solvent consumption
Speakers:
• Catharine Layton, Principal Scientist, Scientific Operations, Waters Corporation
• Martin Gilar, Ph. D., Scientific Fellow, Separations R&D, Waters Corporation
When:
Wed, Jul 20, 2022 9:00 AM - 10:00 AM PDT
Event Overview:
Non-specific binding of analytes to material surfaces is an inherent characteristic of conventional chromatographic columns and systems. This phenomenon leads to reduced sensitivity and sometimes poor peak shape of acidic molecules. In this webinar we will present a new, novel hybrid surface technology that provides a solution without the need for strong mobile phase additives, chelators, or lengthy passivation protocols. The chromatographic benefits provided when using columns and systems equipped with the MaxPeak™ High Performance Surfaces (HPS) technology will be demonstrated with antivirals, NSAIDs, cancer growth inhibitors, oligonucleotides, peptides, and glycans.
Key Learning Objectives:
• Understand how metal-analyte interactions can negatively impact chromatographic performance.
• Learn how to mitigate metal-analyte interactions with the use of a novel surface technology.
• Explore applications: antivirals, NSAIDs, cancer growth inhibitors, oligonucleotides, peptides and glycans.
Who Should Attend:
• Scientists who develop and/or manage UHPLC and HPLC methods in pharmaceutical laboratories.
• Lab managers leading teams involved with the analysis of small and large molecules.
Speakers: Title: Peter Ratsep, Ph.D. (Technical Support Supervisor) and Sarah Braseth (Regional Manager), Shimadzu Scientific

Instruments NJ office
When: Wed, Oct 20, 2021 9:00 AM - 10:00 AM PDT
Event Overview: Many laboratories today are faced with the challenge of running multiple different analyses on the same sample. This challenge can present itself when there is an increase in sample complexity, additional sample regulations and requirements that must be met, when sampling is done at different time markers, when you are scouting for the right method settings, or if you are doing general API analysis to meet different USP requirements. The Shimadzu Nexera Dual Injection (U)HPLC system is equipped with two injection ports (independent flow paths) which allows two analyses to be run simultaneously on a single instrument, potentially decreasing your analysis time by 50%. This webinar will highlight specific applications of simultaneous analyses done on one sample with one (U)HPLC. In addition, this webinar will also explain how the two sets of data are then integrated into a single data file simplifying data management and ensuring data integrity.
• Understanding the advantages of a dual injection system
• Learn a novel approach to address efficiency when running a single sample under multiple different analyses conditions
• Maintaining data integrity and data tracking by combining data and method files from multiple runs
• Method developers in pharmaceutical, foods and cosmetics, chemical, environmental, agrichemical, contract research organization, university and governmental laboratories.
• Scientists working in an HPLC laboratory looking to increase throughput and efficiency with their workflows
Speakers: Tony Edge, Ph.D., Site Director (Product R&D), Avantor Hichrom
When: Wed, Nov 3, 2021 9:00 AM - 10:00 AM PDT
Event Overview: In the summer of 2018, the pharmaceutical landscape for the manufacture of small molecules has changed forever with the discovery of a genotoxic compound called N-nitrosodimethylamine (NDMA) in a batch of Valsartan manufactured by Zhejiang Huahai Pharmaceutical in China. Valsartan is a prescription only drug to treat high blood pressure and heart failure, which is a selective angiotensin II receptor blocker (ARB) used to dilates blood vessels. In routine analysis, the QC chemists found that there were approaching 60 ppm of NDMA, which is high enough to cause one extra case of cancer in 500 patients. On 5th July of 2018, the European Medical Agency (EMA) gave notice to recall selected batches of Valsartan with immediate effect. Since 2018, NDMA and other nitrosamines have been detected at alerted levels in a range of different pharmaceuticals.
This webinar will look at the chronological development of the story and how nitrosamines have caused the pharmaceutical industry to re-evaluate their manufacturing procedures. It will look at the synthetic pathways that can generate these genotoxins and the regulatory landscape that has evolved as a consequence of the initial findings. We will then discuss the development of a series of applications that will allow for the determination of nitrosamines that have been identified as genotoxins by the US Food and Drug Administration (FDA) to monitor, initially showing how to perform a separation of these compounds from the active pharmaceutical ingredient (API) and then looking at how mass spectrometry can be applied to the analysis to ensure that the required detection limits can be reached.
• Learn the importance of testing for NDMA concentrations in pharmaceuticals
• Understand the regulatory landscape that has evolved to deal with this range of genotoxins such as nitrosamines impurities
• Review examples of nitrosamine analysis